The custom printed Halloween bags are a potent marketing tool for any business.
The idea of creating custom printed bags is not new, but it is still the best idea to personalize your shopping bags and attract new customers with low-cost advertising that anyone can see at any time of the day.

In fact, every customer who buys an item in a store will go out of the store with a custom shopping bag with the store name written above, and most likely will walk the city with this bag. The result is evident, so many people will see your custom shopping bag, and this will be the best advertising possible.
The idea of having custom printed Halloween bags is a brilliant marketing move.
Everyone loves Halloween, and this is why they always try to buy new costumes, new make-ups and scary objects to create sets that can scare anyone.
Trying to attract these customers with custom printed Halloween bags is great publicity, especially if custom printed bags are decorated with drawings or with engaging and original prints, such as monsters, pumpkins, or ghosts. The original or innovative designs attract many people and can boost the sales of a store.
There is also the possibility of attracting collectors by printing custom printed bags in a limited edition (or printing every year a new version) to push collectors to become the fixed customers of your business.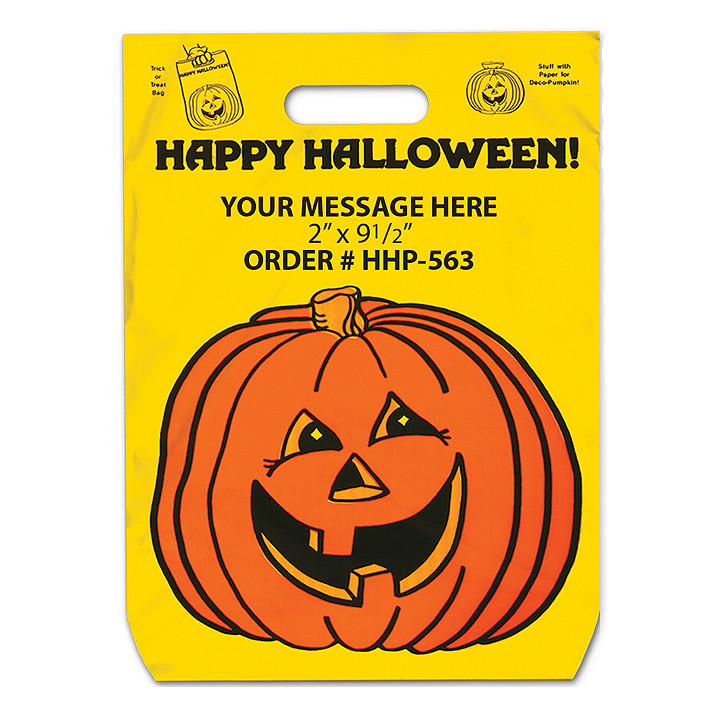 These custom printed Halloween bags can be made with different materials, for example, can be paper bags or classic plastic bags.
There are a wide variety of plastic bags from which to choose, from those in polyethylene up to those made with recycled plastic. The possibilities are endless, and our service can create custom bags with your logo or design in a brief time and guaranteeing the best possible quality result.
These custom printed bags can also become collectibles, be auctioned on eBay or Amazon, and all this translates into a new ad for your store and a new business opportunity.
As you can see the possible applications of custom shopping bags are endless. In the end, these custom printed Halloween bags are ecological (they are made from recycled plastic), they are cheap and are a great way to attract customers to your store. The custom shopping bags are suitable for every occasion and every party, from Christmas to Halloween, Easter, and are appropriate for the summer. They can become real collectibles and advertise your business as never before.