Do you want to make your bags stand out in the market place? ColorVista imprinting is the process you need. This unique 4-color heat transfer process closely registers photographs and designs with multiple colors. Choose ColorVista imprinting when printing on non-woven polypropylene, polyester, or matte shopping bags. This imprint process displays vivid color and detail on your packaging.
If you are planning on using a photograph on your bag, ColorVista imprint will showcase the detail beautifully. A photograph is a great alternative to a one color logo as it can show customers who you are AND what you do. Use a photograph of people, your product, scenery, or an elaborate colorful design. ColorVista imprint is also a wonderful solution for co-branding or co-sponsoring. In events such as tradeshows or partnership programs, ColorVista imprinting allows multiple company logos and colors on one imprinted bag. This also applies to companies that have several brands under one corporate company.
Please note that the ColorVista imprint process requires an adhesive layer behind the artwork that results in a very fine outline. This ensures that the color is matched to the bag as well as proper adhesion that won't peel.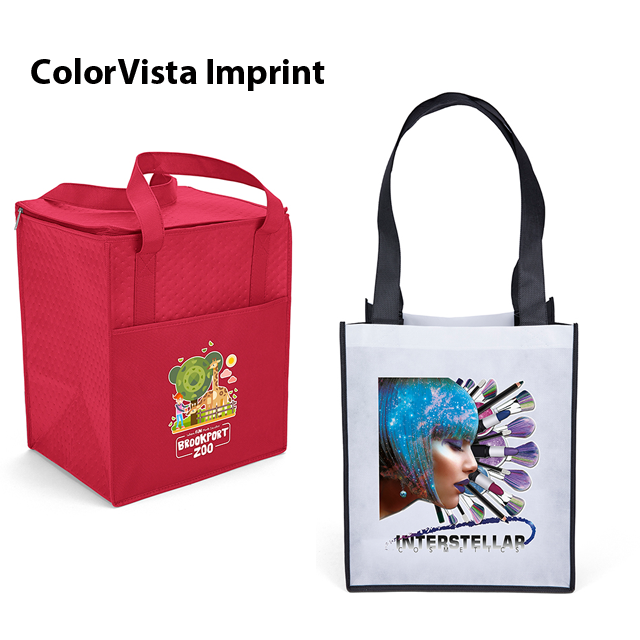 Foil Hot-Stamp Imprint:
During the foil hot-stamp process, imprints are created with an engraved magnesium plate as well as heat and pressure. If you're looking to give your packaging an upscale, classy retail look this imprint process will work for you. Custom ribbon and bows also use this process.
Foil hot-stamp imprinting applies metallic or pigmented foil to the surface of the bag or ribbon using heat to transfer. Bags with a variety of surfaces can be foil hot-stamped, including matte, laminated, gloss and some plastic. This imprint process leaves a foil imprint that comes in a metallic or matte finish and leaves your packaging with a high-end look!
The flexographic ink imprint process is popular due to its quality and inexpensive cost. This imprint process uses a "flexible" photopolymer plate on a rotating drum to create imprints directly on paper or plastic bags.
We use a solvent-based ink for this process that can mix to match hues you need. Metallic inks are also available. Flexographic ink results in fast production times as well for small or large quantities.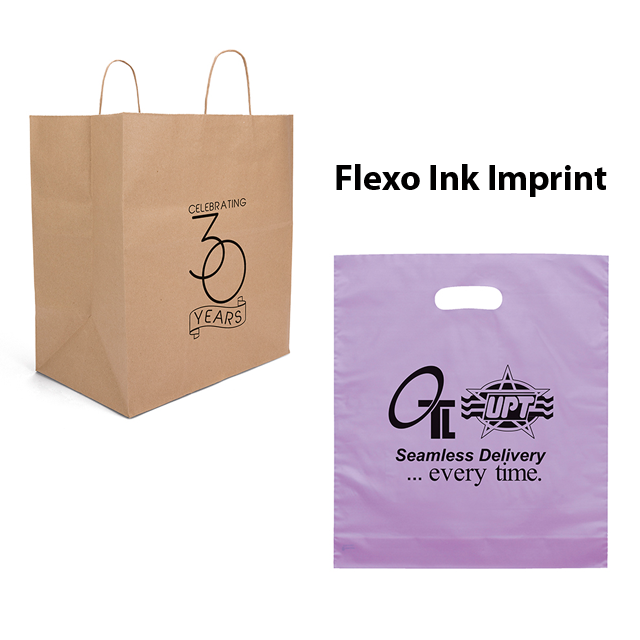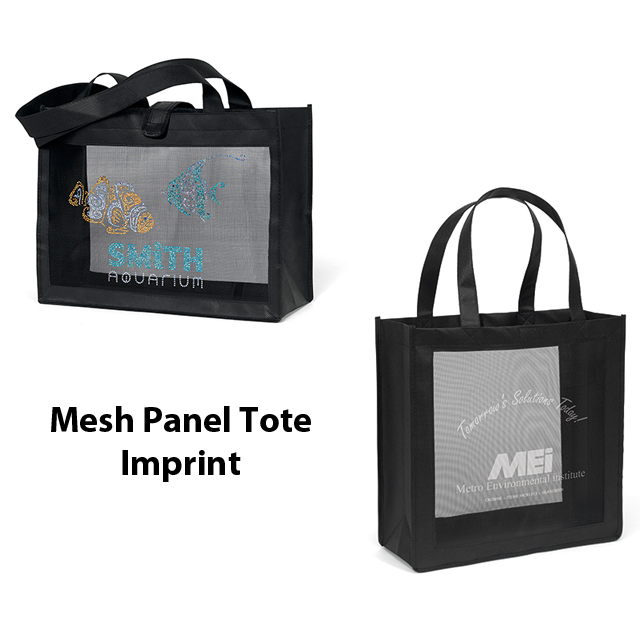 Mesh Panel Totes Imprint:
A brand new imprinting process for your reusable totes! Mesh panel totes offer a visual factor with breathable front and back panels paired with non-woven polypropylene material. In addition, you can also add an optional plastic bottom insert to better hold the bag shape.
Multiple imprint location options are available. Sparkle hot press imprinting is also now available on mesh panel totes. Mesh panel totes are ideal for trade shows and promotional use as they increase your brand presence. The perfect addition to your marketing plan!
The screen print imprinting process results in fast production times and affordable costs. This imprint process is used for 1- or 2- color designs on non-woven polypropylene and polyester bags. During the process, high-quality ink is pressed through a fine mesh screen directly onto each bag. This results in impressively clear artwork.
Pricing can differ a bit for screen printing imprints because screen changes apply to all orders and re-orders since a screen is required for every color, every unique design, and every location. Essentially, this imprint method is overall the easiest and fastest way to customize short-runs of bags.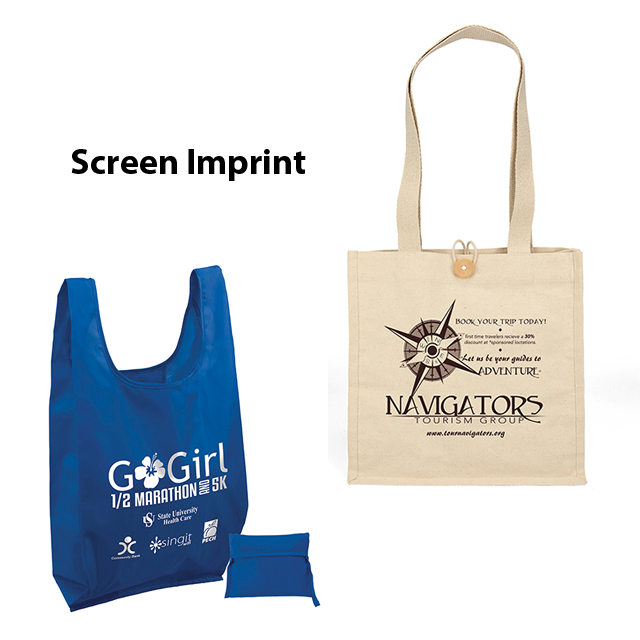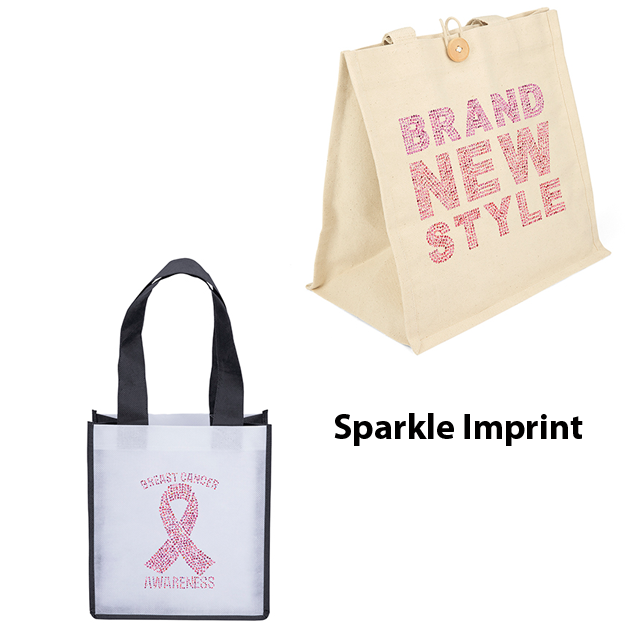 Sparkle Decoration Imprint:
Add some *SPARKLE* to your bags with this eye-catching imprint method. Sparkle Decoration's glossy reflective dots add a unique touch to your cotton/jute, no-woven, and polyester bags as well as ribbon. A hot press uses reflective gloss metallic, matte, or gloss holographic dots to complete this imprint process.
This process is customized with every order unique. Each piece of artwork requires different dot sizes and placements on the bags. Simply send us your artwork to ensure it is suitable got the sparkle imprint process.
NEW! We are now offering sublimation imprinting, a special process which creates edge-to-edge printing on polyethylene terephthalate (PET) and Dali non-woven tote bags. Dali tote bags have white 190D polyester front and back panels with black gussets and handles. They also have an attached 6" x 5 ½" floating pocket that acts as a self-storage pouch for the entire bag.
Sublimation imprinting creates a visual "WOW" factor for your promotions by maximizing the imprint impact with full edge-to-edge printing. A special machine heats the sublimation ink so that it becomes a part of the fabric's molecules. Therefore, preventing smearing once transferred. The inks are made to vaporize at certain high temperatures quickly, making them transform from solid to gas rapidly and results in fine detail and vivid color.  Essentially, the ink becomes part of the fabric during this process, leaving nothing but a smooth, photo-quality design. You can also combine sublimation with ColorVista or Sparkle imprinting processes for a truly unique, one-of-a-kind design.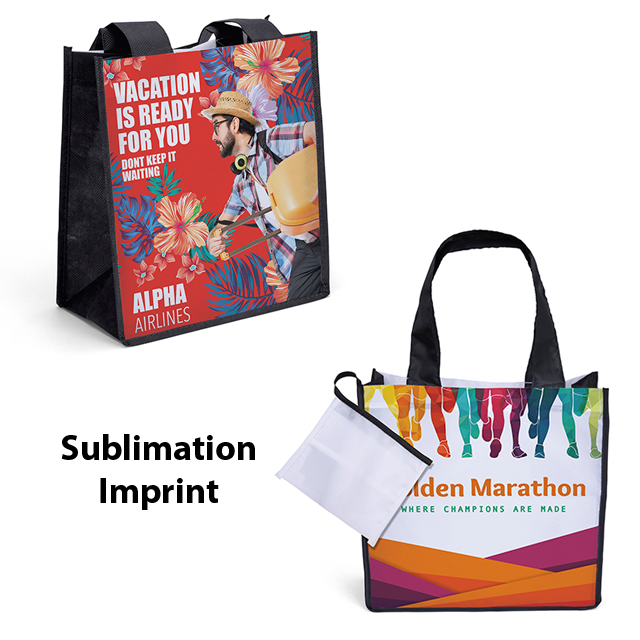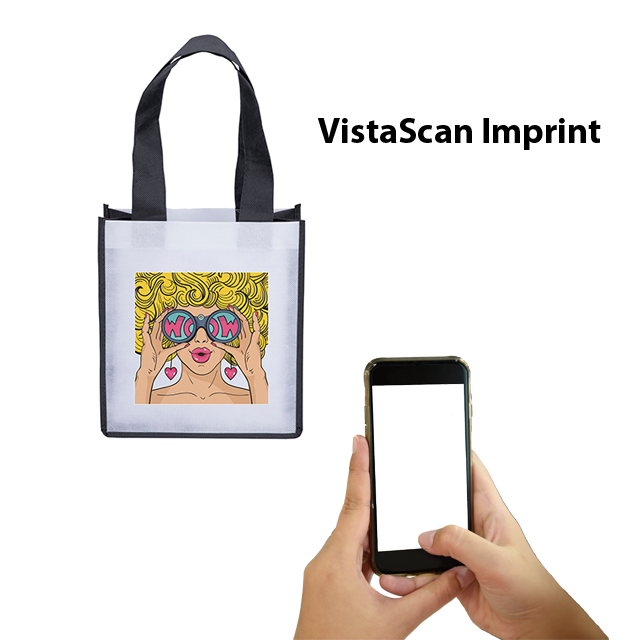 Take your promotional bag marketing to the next level with an innovative new process called VistaScan. The VistaScan concept combines the ColorVista process with digital barcode technology create an interactive experience for your customers.  The digital barcode becomes embedded into the ColorVista imprint and can be seen using a smartphone or tablet. It is not visible to the eye, but once scanned on a mobile device, the VistaScan imprint enhances marketing opportunities for your company. The digital barcode imprints are detected using the DIGIMARC® Discover mobile app (link) and gives the user instant access to an online website, video, Facebook event and more!
The process is simple, simply choose the right non-woven bag for your marketing objective, provide your design with full color, and determine the online destination you would like to share with your consumers. In addition, you can also change the barcode's online destination anytime and however often you'd like while it is active. Overall, this imprint process opens up the door to many marketing opportunities at conferences, trade shows, product launches and other programs.